By TimeForge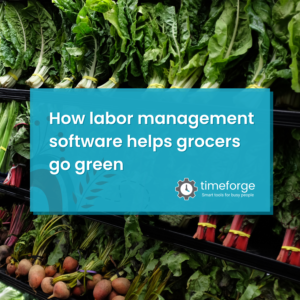 When grocers think about environmental sustainability, labor management probably isn't the first thing to comes to mind. After all, what does managing store labor have to do with going green?
In fact, labor management software like TimeForge does help businesses adopt a more environmentally friendly approach. First and foremost, TimeForge supports the sustainability of the business itself.
TimeForge is currently helping AWG members Buche Foods, Ray's Apple Market, Russell Supermarket, and Doc's Foods to minimize their carbon footprint and become more sustainable.
#1 Reducing paper waste
TimeForge supports grocers' efforts to go green by reducing their reliance on paper documents.
TimeForge is an online workforce management platform that integrates scheduling and timekeeping with leading POS and payroll systems. The software brings everything together under a centralized dashboard, making it easier to monitor progress and to make smart business decisions.
Since TimeForge is an online software, it reduces the reliance on paper by replacing printed schedules and reports, physical timecards, hand-written time off and availability requests, manager logbooks, and sticky notes. Everything store operators need is now stored online, where it's accessible from anywhere using a smart mobile app.
By providing convenient online document storage, TimeForge also reduces HR's reliance on paper reports and forms, as well.
"Going green has been a goal of ours since we quit mailing out flyers in 2009 to save the environment and our customers' money," said Jody Kotab, Director of HR at Buche Foods. "TimeForge has contributed to us evolving on this path by helping us go paperless with all our team members' paperwork!"
#2 Increasing operational efficiency
TimeForge supports environmental sustainability by increasing operational efficiency. The impact of operational efficiency can reach numerous aspects of business, including its carbon footprint. For example, streamlined communication and more efficient schedules mean less driving to and from the store, which means happier employees, fewer resources wasted, and a smaller carbon footprint.
"We selected TimeForge for its sales integration and labor forecasting, but it also benefits our business in other ways," said Aaron Floersch, Operations at Ray's Apple Market. "Once the schedule is done, it is pushed out to the employee's phone app. They do not have to come to the store to see what their schedule is, and when they request time off, they can do it from their phone instead of by hand. This has saved slips of paper from being lost or from having to be organized by the manager before they create the schedule."
Over time, these effects add up to have very real impacts on a business's bottom line, especially when it comes to employee retention.
#3 Workforce sustainability
TimeForge helps grocers by empowering them with the tools needed to both retain and grow their workforce.
According to estimates in 2022, employee turnover costs between $3,500 and $10,000 per hourly employee in lost productivity, overtime, recruiting, background checks, and training. And that's not even considering the impacts of turnover on customer service and team morale.
TimeForge helps grocers protect themselves from the wastefulness of turnover by empowering employees with mobile apps for self-service, easy shift swapping for flexibility in schedules, and built-in availability and time off requests.
For multi-unit grocers, TimeForge provides gig shifts, which help managers balance staffing across locations while giving employees additional options and added schedule flexibility. Our software's built-in labor law compliance tools mean that employers can focus on growing their workforce and spend less time maintaining paper trails.
Any questions about this article, please contact – Sarah Taylor [email protected]